Coupe du Monde de Rugby 2023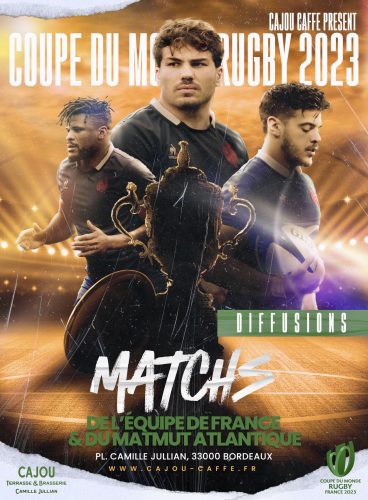 Notre restaurant diffusera la Coupe du Monde de Rugby 2023.
Profitez d'une expérience de visionnage de haute qualité du 8 septembre au 28 octobre sur nos grands écrans dédiés.

Venez voir le prochain match France contre Nouvelle-Zélande
le 8 septembre.

Pour accompagner chaque match, nous offrons une ambiance conviviale et un menu unique.
C'est le moment idéal pour se réunir en famille ou entre amis et célébrer cet événement sportif international.
Terrasse & Brasserie à BORDEAUX
The brewery's restaurant in a corner of paradise.
Pour un café le matin, l'apéro ou pour un déjeuner ou dîner entre amis, toute l'équipe du Cajou vous attend sur l'une des places les plus prisées de la ville, la place Camille Jullian dans le quartier Saint-Pierre.
Dans un cadre chaleureux et un esprit séduisant, Le Cajou vous invite à découvrir nos repas traditionnels et riches en saveurs.
You will find a brewery kitchen with a more elaborate table of suggestions every day, lunch and evening.